BITE EXAM, OCCLUSAL ANALYSIS MOUNTED CASE, CHARLOTTE, NC DENTIST
CHARLOTTE NC TMJ BITE BALANCING DENTIST

PAUL PLASCYK, D.D.S.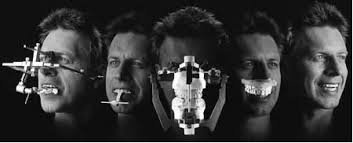 The stages of an Occlusal Analysis, Mounted Case: 
Measurements, mounted models, analysis, successful final result.

An unbalanced bite can cause damage and pain to the oral structures.An Occlusal Anlysis, Mounted Case is the only ADA recognized technique for analyzing a bite that takes into consideration the correct jaw position of the patient. It is also the only technique that allows the dentist to modify models of the teeth (in the correct jaw position) before performing any treatment on the patient. I recommend that you ask a dentist if they do this before starting treatment.
Once the bite is properly analyzed with an Occlusal Analysis, Mounted Case, then bite balancing procedures will include equilibration, and possibly fillings, crowns, bridges and orthodontic treatment if the initial bite imbalance is more severe.  
An "occlusal analysis, mounted case" is the definitive way to analyze the bite before balancing it. As the above picture shows,  a few simple measurements are taken so that dental models of the patient's teeth can be mounted on a hinged device called an articulator (see below). The articulator duplicates the patient's jaw movement in the correct jaw position. I can now analyze the bite and determine what dental procedures need to be completed on the teeth to make them function in harmony with the jaw joint (TMJ) and the jaw muscles.
Ideally, an occlusal analysis, mounted case should be completed before adjusting teeth or completing dental procedures such as crowns, implants, cosmetics and dental reconstruction. This level of examination is seldom completed by dentists. The ultimate goal is to get all the oral structures working in harmony for long term success and patient satisfaction.