Cosmetic Enhancement and
Dental Reconstruction 
Holistic Biological Iaomt dentist, Charlotte NC
paul Plascyk, D.D.S.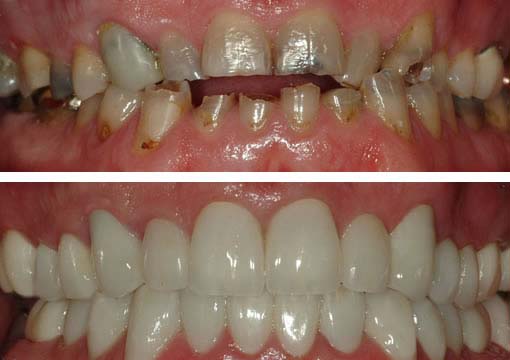 Before (top), After (bottom)
My staff and I are very proud that we solved so many cosmetic and complex oral reconstruction problems for people over the years. There is nothing in dentistry that brings more happiness to a patient than a beautiful smile resulting from superb dentistry. Although one obvious requirement of cosmetic and oral reconstruction dentistry is a beautiful and natural looking smile, there is much more to it than that. The final result should be a healthy and enduring. We accomplish this by providing holistic (click) and bite balancing  therapy (click) as well. 
Whether you are looking to replace an old amalgam filling with a non-metal cosmetic filling like this: 

                                               before                                                  after

or comprehensive cosmetic and oral reconstruction treatment like the cases below, we can help you.
The upper and lower teeth in these smiles have been treated with various
combinations of implants, crowns, bridges and porcelain veneers.